1960: Biological Clocks, Vol. XXV
Organizer: Arthur Chovnick
While daily rhythms have been studied systematically for many years, there has been a most remarkable outburst of interest in the subject during the past ten years. This growth of interest is due, almost entirely, to the elegant experimental demonstrations that birds, bees, and many other animals orient or "navigate" using the position of the sun as a guidepost, and compensating for its movement in time with the use of an internal chronometer. Rapid advances have been seen in studies of rather diverse phenomena in a wide variety of organisms from single cells through higher plants and animals.

By bringing together leading investigators from throughout the world who are intimately concerned with the broad array of phenomena classified under the general topic "Biological Clocks", it is hoped that this year's Symposium may serve as a unifying influence on the entire field of study. The program this year was organized by a committee consisting of C. S. Pittendrigh (Chairman), J. Aschoff, V. G. Bruce, E. Bunning, D. R. Griffin, and J. W. Hastings. Serving as chairmen of the program sessions were: C. S. Pittendrigh, E. BunningvJ. Aschoff, S. B. Hendricks, V. G. Bruce, H. Kalmus, O. H. Schmitt, A. D. Lees, K. V. Thimann, C. P. Richter, F. Halberg, R. Bunsow, D. R. Griffin, K. S. Rawson, K. Hoffmann, A. D. Hasler, and F. A. Brown, Jr. The Laboratory is indeed grateful to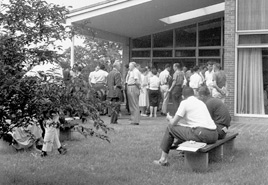 all of these gentlemen for their efforts in organizing and conducting the program.

The Laboratory is pleased to acknowledge support of the Symposium by The Carnegie Corporation of New York, The Rockefeller Foundation, Institute of Oceanography and Marine Biology, National Science Foundation, Office of Naval Research under the auspices of the American Institute of Biological Sciences, United States Public Health Service, and the United States Air Force monitored by the Office of Scientific Research of the Air Research and Development Command.

This year, preparation of the volume for publication was supervised by our editor, Leonora Frisch, assisted by Ruth Schalet and Ethel Burtch. The very difficult task of indexing was handled by Dr. C. S. Pittendrigh and his colleagues at Princeton University. To all of these people, the Laboratory owes a debt of gratitude.

The meetings, held from the 5th through the 14th of June, 1960, were attended by 150 scientists, including 31 from abroad.
— Jan A. Witkowski