1996: Function & Dysfunction in the Nervous System, Vol. LXI
Organizer: Bruce Stillman
It is inherent in our nature to want to understand all that is wrong, as well as what is right, with the biological systems that we study. Perhaps one of the most fascinating areas of biology where this is applicable is the nervous system. Increasingly, progress in biology is influenced by the diseases and maladies that afflict us. Diseases of the brain and the periphery of the nervous system afflict many millions throughout the world, and the problems are as varied as the biology itself. But as modern techniques allow us to probe ever more deeply, we are able to understand how small changes can greatly influence our health and behavior. By studying the disease processes, we uncover surprising new findings that influence all of biology. For example, the discovery of prions and their unusual inheritance resulted from interest in a infectious disease in the highlands of New Guinea.

The decision to hold the sixty-first Symposium on "Function and Dysfunction in the Nervous System" was driven by the belief that in the near future we will learn an enormous amount about how the nervous system works by simultaneously studying the diseases that affect it. These studies, in parallel with other studies on the normal function of the nervous system, will greatly advance neurobiology in much the same way that genetics of model organisms has hastened unexpected and fundamental discoveries. The goal of this meeting was to intermingle scientists interested in the study of systems neuroscience with those trying to understand how those systems fail, so that an overview of the problems in neurological diseases could be obtained. This was a somewhat risky venture because neurobiology is as varied as biology itself, and the bringing together of investigators with diverse interests can create a hodgepodge of science that does not interest anyone. But the diseases of the nervous system are as fascinating as biology gets and it was well worth the risk.

Some Symposia celebrate past accomplishments in fields of biology, but this one looked mostly to the future, which we hope, and even expect, is an exciting one. I anticipate that this Symposium will provide a stepping stone for future progress. The current meeting could not have been organized without the great help of several colleagues, including Eric Kandel, Stan Prusiner, Richard Axel, Conrad Gilliam, Gideon Dreyfuss, and Tony Movshon. The formal scientific program consisted of 86 speakers and 94 poster presentations, and the meeting attracted 281 participants. Introductory talks on the first evening were from Michael Merzenich, Eric Kandel, Stan Prusiner, Richard Price, and Ann Pulver. The second Reginald G. Harris Lecture was delivered by Richard Axel, who presented his exciting work on olfaction. V.S. Ramachandran gave a fascinating Dorcas Cummings Lecture to our friends and neighbors about the illusions of the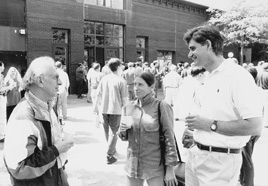 body image, and was widely acclaimed.

Essential funds to run this meeting were obtained from the National Institute of Neurological Disorders and Stroke and the Du Pont Merck Pharmaceutical Company. In addition, the financial help from the Corporate Sponsors of our meetings program is essential for these meetings to remain a success, and we are grateful for their continued support. These sponsors are: Alza Corporation; Amgen Inc.; BASF Bioresearch Corporation; Becton Dickinson and Company; Boehringer Mannheim Corporation; Bristol-Myers Squibb Company; Chiron Corporation; Chugal Research Institute for Molecular Medicine, Inc.; Diagnostic Products Corporation; The Du Pont Merck Pharmaceutical Company; Forest Laboratories, Inc.; Genentech, Inc.; Hoechst Marion Roussel, Inc.; Hoffmann-La Roche Inc.; Johnson & Johnson; Kyowa Hakko Kogyo Co., Ltd.; Life Technologies, Inc.; Eli Lilly and Company; Oncogene Science, Inc.; Pall Corporation; The Perkin-Elmer Corporation, Applied Biosystems Division; Pfizer Inc.; Pharmacia & Upjohn, Inc.; Research Genetics, Inc.; Sandoz Research Institute; Schering-Plough Corporation; Sumitomo Pharmaceuticals Co., Ltd.; Wyeth-Ayerst Research; and Zeneca Group PLC.

I thank the staff, in particular Diane Tighe, in our meetings and courses office, under the able direction of David Stewart, for their efficient and outstanding organization of this meeting. Mary Horton competently handled the various grant applications, and Herb Parsons and his staff provided excellent audiovisual assistance. The organization of this meeting relied on the essential work of my assistant Delia King. It was again a pleasure to work with the Laboratory Press, under the direction of John Inglis, particularly Nancy Ford, Patricia Barker, Joan Ebert, and Elaine Gaveglia. This year marks Nancy's retirement from the Cold Spring Harbor Laboratory Press. She has shepherded the annual Symposium volumes for the past 24 years. Throughout that time, biology has undergone a revolution that has been recorded in these pages, and Nancy Ford played a great role in recording this important story. We wish her all the best.
— Jan A. Witkowski