1988: Molecular Biology of Signal Transduction, Vol. LIII
Organizer: James Watson
For many decades, it has been clear that cells have a multitude of ways of sensing their environment and converting a plethora of external signals into measured intracellular responses. Already by 1965 Earl Sutherland had made the distinction between the "first-messenger" role of hormone-like signals and the "second-messenger" role of cyclic AMP, whose concentration was somehow influenced by signals from first messengers. In Sutherland's scheme, the first messenger binds to cellular receptors, with such binding events somehow leading to control of the concentration of the second messenger. Now we realize that many first messengers do not act directly through second messengers, but instead work at the genetic level by binding to cytoplasmically located receptors, which can then bind to DNA and turn on or off the functioning of specific genes. Today, we refer to the way that external signals are passed through various cellular components as signal transduction processes, with receptors and their associated molecules known as biological transducers. Because most transducer molecules are present in very limited amounts, their study at the biochemical level until recently was at best difficult, and hypotheses as to how they functioned were almost impossible to test rigorously.

Today, recombinant DNA techniques have dramatically changed the picture. Even very rare receptors are now open to analysis if their respective genes can be cloned, and virtually every month, the amino acid sequence of a new key biological transducer is established. The time was thus appropriate last June to hold a Cold Spring Harbor Symposium on the Molecular Biology of Signal Transduction. Our aim as always was to have the key players in the field present, and two members of our staff, Mike Wigler and Jim Feramisco, worked with me as the principal organizers. In so functioning, we contacted many outside advisors, and in particular we wish to thank Richard Axel, Howard Berg, Henry Bourne, Ron Evans, Alfred Gilman, Joe Goldstein, Ira Herskowitz, Tom Jessel, Eric Kandel, Dan Koshland, and Lubert Stryer for their help.

The final program consisted of 119 speakers, who spoke before an audience of 439, the largest ever yet to attend a Cold Spring Harbor Symposium. The crowd overflowed the Grace Auditorium, and a large closed-circuit screen in Bush was provided for those who tired of standing long hours in the side aisles. The meeting opened with a series of five virtually electric presentations by Howard Berg, Alfred Gilman, Mark Ptashne, Lubert Stryer, and Keith Yamamoto. A mode of high excitement prevailed throughout the subsequent 14 long sessions,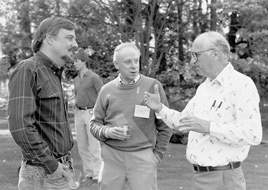 which were concluded by a graciously thoughtful summary by Henry Bourne.

Super-large meetings like this require many major sources of financial backing, and we gratefully acknowledge our long-term Symposium backers, the National Cancer Institute of the National Institutes of Health, the National Science Foundation, and the Department of Energy. We are also indebted to the Lucille P. Markey Charitable Trust for major help provided for the third straight year. Essential funds from our Corporate Sponsors Program also provide key support for our meetings program: Abbott Laboratories; American Cyanamid Company; Amersham International plc; AMGen; Applied Biosystems; Becton Dickinson and Company; Boehringer Mannheim GmbH; Bristol Myers Company; Cetus Corporation; Ciba-Geigy Corporation; Diagnostic Products Corporation; E.I. du Pont de Nemours & Company; Eastman Kodak Company; Genentech, Inc.; Genetics Institute; Hoffmann-La Roche Inc.; Life Technologies, Inc.; Johnson & Johnson; Eli Lilly and Company; Millipore Corporation; Monsanto Company; Oncogene Science, Inc.; Pall Corporation; Pfizer Inc.; Pharmacia; Schering-Plough Corporation; Smith Kline & French Laboratories; Tambrands Inc.; The Upjohn Company; The Wellcome Research Laboratories; Burroughs Wellcome Co.; and Wyeth Laboratories.

Again our Meetings Office staff-Maureen Berejka, Barbara Ward, Diane Tighe, Karen Otto, and Michela McBride-performed at high level, overseeing the registration and housing of the participants as well as making them feel welcomed and special. Herb Parsons again ran a very competent audiovisual department, and my secretary, Andrea Stephenson, smoothly handled the massive telephone and written correspondence needed to put together a Symposium. The publication of these books was again ably overseen by Nancy Ford, Managing Director of our Publications Department, working with our Symposium editors Dorothy Brown, Patricia Barker, and Ralph Battey, assisted by Joan Ebert, Mary Cozza, and Inez Sialiano.
— Jan A. Witkowski