1995: The Dynamics of Protein Kinesis, Vol. LX
Organizer: Bruce Stillman
The way individual cells look and function follows directly from the program of cell-typedependent gene expression and the nature of the proteins that are expressed. Once synthesized, however, the proteins themselves take on a life of their own that is determined by their amino acid sequence and their environment. Proteins have varied lifetimes, cellular locations, and interactions with other proteins or cellular structures such as membranes, each of which can influence cell physiology directly. Thus, the life of proteins in the cell is an important topic that has deserved much attention. At the last Symposium that dealt with these issues, in 1981, the focus was on the structure of the cytoskeleton and general observations of protein trafficking within the cell, such as cell-surface polarity and axonal transport. The science was dominated by microscopy and was primarily observational. As pointed out by Jim Watson in his Foreword to that Symposium volume, the field was crying out for an influx of biochemistry and genetics to present a more detailed understanding of the mechanisms of protein stability, movement, and organization.

With remarkable results, the biochemists and geneticists heeded the call. During the last 14 years, we have witnessed a dramatic increase in knowledge about the mechanisms of protein movement within the cell. It was therefore prime time to dedicate the Symposium to the dynamic aspects of protein function. The title "protein kinesis" was invented to reflect the many aspects of protein modification, trafficking, stability, localization, and organization. Knowledge of the mechanisms of protein transport either through the endoplasmic reticulum and Golgi to the cell surface, or into the nucleus, has progressed rapidly in recent years. Our grasp of the subject is sufficient that we can begin to appreciate links between these processes in different cell types and to understand how protein kinesis influences human disease processes, a topic that I suspect will dominate future discussion and directions.

I am very indebted to Gunter Blobel, Jim Rothman, Randy Schekman, Mary-Jane Gething, Susan Gottesman, Ulrich Hartl, Ira Mellman, and Ron Laskey for advice and guidance on the areas covered in this Symposium. The formal program consisted of 87 talks and 189 poster presentations, and the meeting attracted a total of 389 participants. Outstanding first-night introductory lectures by Gunter Blobel, Jim Rothman, Per Peterson, and Jim Spudich set an exceptionally high standard that was maintained throughout the meeting. Furthermore, Gunter Blobel delivered a masterful Dorcas Cummings lecture for the benefit of members of the local community, and George Palade provided a thoughtful and insightful summary of the entire meeting. This year also saw the inaugural Reginald G. Harris Lecture, given by Randy Schekman. When he was Director of the Biological Laboratories at Cold Spring Harbor, Reginald Harris started the Symposia in 1933 to foster a quantitative approach to biology and to promote interactions between scientists from diverse fields. The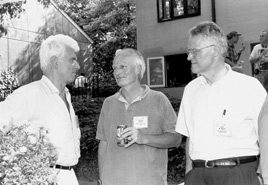 modern-day success of these meetings stems directly from his foresight. Indeed, many Symposia have profoundly influenced the future of biology in general.

Essential funds that supported this meeting were obtained from the U.S. Department of Energy and the National Institutes of Health. Additional support came from our ever more important and needed Corporate Sponsors: American Cyanamid Company; Amgen Inc.; BASF Bioresearch Corporation; Beckman Instruments, Inc.; Becton Dickinson and Company; Bristol-Myers Squibb Company; Chugai Pharmaceutical Co., Ltd.; Chugai Research Institute for Molecular Medicine, Inc.; Diagnostic Products Corporation; The Du Pont Merck Pharmaceutical Company; Forest Laboratories, Inc.; Genentech, Inc.; Glaxo; Hoffmann-La Roche Inc.; Human Genome Sciences, Inc.; Johnson & Johnson; Kyowa Hakko Kogyo Co., Ltd.; Life Technologies, Inc.; Marion Merrell Dow Inc.; Mitsubishi Kasei Institute of Life Sciences; Monsanto Company; New England BioLabs, Inc.; Oncogene Science, Inc.; Pall Corporation; The Perkin-Elmer Corporation; Pfizer Inc.; Research Genetics, Inc.; Sandoz Research Institute; Schering-Plough Corporation; SmithKline Beecham Pharmaceuticals; Sumitomo Pharmaceuticals Co., Ltd.; The Upjohn Company; The Wellcome Research Laboratories, Burroughs Wellcome Co.; Wyeth-Ayerst Research; and Zeneca Group PLC.

Once again, I thank the efficient staff in our meetings and courses office, under the very capable direction of David Stewart, who now assumes responsibility for directing our large meetings and courses program that emerged from a single annual Symposium begun 63 years ago. In particular, Diane Tighe efficiently managed the many logistical aspects of meetings registration; Mary Horton ably handled the various grant applications; and Lee Martin did an excellent job of preparing the abstract book.

As usual, Herb Parsons and his staff provided excellent audiovisual assistance. The organization of this meeting greatly relied on the marvelous work of my assistant Delia King. Finally, it was again a pleasure to work with the efficient Laboratory Press, under the direction of John Inglis: particularly Nancy Ford, Patricia Barker, Joan Ebert, Elaine Gaveglia, and Susan Schaefer. Their efficiency made this volume possible.
— Jan A. Witkowski